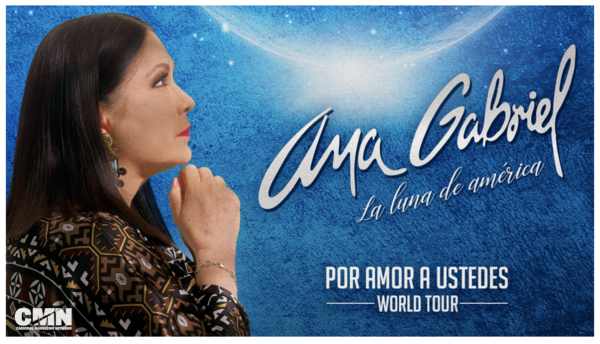 Ana Gabriel Announces the first leg of her World Tour, kicking off a 18-city stint in the U.S. on February 10, 2022
Miami, FL. (May 24th, 2021) – Mexican powerhouse and multi-platinum recording artist Ana Gabriel just announced the first dates of her upcoming world tour "Por Amor A Ustedes." Cardenas Marketing Network (CMN), leading multicultural experiential event marketing agency and the largest producer of Latin music events in the U.S., will be at the helm of the highly anticipated tour, which was postponed in 2020 due to the COVID-19 global pandemic. 
As one of Mexico's greatest musical exports and a true legend in her own right, Ana Gabriel has released more than 30 albums and has earned 20 top 10 hits on Billboard's Hot Latin Songs chart, including an impressive six No. 1s. Her trademark voice and remarkable delivery have led this "powerhouse to fill arenas with fantastic performances that are veritable vocal tour de forces" (Billboard, 2020), and "Por Amor A Ustedes" will not be an exception! 
The recording artist whom thru her career has received numerous Platinum, Double Platinum and Diamond certifications, and among many other honors, whom has received the "Legend" award at the Hispanic Heritage Awards, will kick off her world tour with a 18-city North American leg on February 10th, 2022 at the Oakland Arena (Oakland, California) and stop at the Forum (Los Angeles, California) on February 20th. Tickets for the tour, which will be produced by Cardenas Marketing Network (CMN), will have a presale on May 27th, 2021 at 10:00 AM [Local Time] and will be available for sale to the public on May 28th, 2021 at 10:00 AM [Local Time]. Tickets purchased for dates which were postponed in 2020 will be honored, on the new rescheduled dates.     
The new show will feature Ana Gabriel's most beloved hits. In addition, Miami and Ft. Myers will include special guest, Alex Fernández "El Heredero", who has been confirmed to participate in those cities.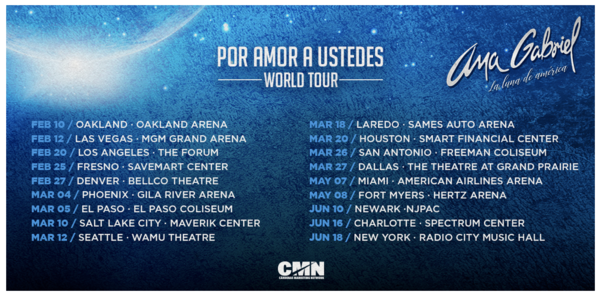 ABOUT CMN:
CMN is the authority in Latin entertainment. As a multicultural creative agency, our common goal is to create and build unique experiences between fans, artists and brands. Henry Cárdenas, entrepreneur, philanthropist, and founder of CMN, has been a pioneer in bringing Latin entertainment and sports to the United States. The Chicago-based company has more than 100 full-time professionals constantly creating cutting-edge marketing experiences and producing the best events in the country. To learn more about CMN and its roster of artists, visit www.cmnevents.com or follow us at @cmnevents.  
ABOUT THE FORUM:
The Forum Presented by Chase, located in Inglewood, California, is the only arena-sized venue in the country dedicated to music and entertainment. The Forum delivers a one-of-a-kind experience for artists and fans alike thanks to its superior acoustics, intimate ambiance and state-of-the-art facilities.  The interior of the bowl features flexible seating that ranges from 17,500 seats to 7,000 seats, enabling the venue to attract a wide variety of premier events. In 2019, the Forum hosted nearly 100 events, including some of the biggest names in music, in addition to award shows, mixed martial arts, boxing, and will continue to offer world-class entertainment and service.  Fans at the Forum enjoy approximately 8,000 square feet of event level hospitality offerings, including merchandise and food and beverage options from some of SoCal's most celebrated brands. A tinted glass wall separates this concession area from the arena, ensuring fans do not miss a moment of the show. A 40,000-square-foot outdoor terrace wraps around the perimeter of the building and offers food and beverage options, as well as comfortable furnishings, to further elevate guests' enjoyment. Designed with entertainers and performers in mind, the venue includes nine, star-caliber dressing rooms that provide unparalleled comfort. For more information, please visit thelaforum.com. 
Follow Ana Gabriel on Social Media:
YouTube | Instagram | Facebook | Twitter
Follow CMN on Social Media:
YouTube | Instagram | Facebook | Twitter
PRESS CONTACT: 
Nevarez Communications 
Mayna Nevarez 
THE FORUM PRESS CONTACT:

Scoop Marketing
Maxie Solters