ZION & LENNOX ANNOUNCE
THEIR FIRST US TOUR
"ICONIC TOUR TWENTY 20"
COMMEMORATING THEIR LEGENDARY
20 YEAR RUN
COMING TO THE 'FABULOUS' FORUM ON FRIDAY, MAY 15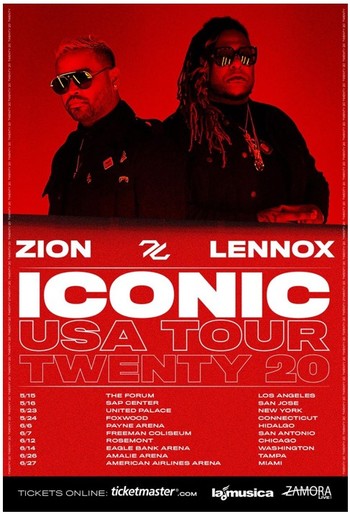 MIAMI, FL (February 27, 2020) – Urbano music's renowned duo Zion & Lennox announce their historic tour: "ICONIC Tour Twenty 20". This tour will be honoring the longevity of their 20-year run, and it will kick off in Inglewood at the "Fabulous" Forum on Friday, May 15th and will close in Miami at the AmericanAirlines Arena on Saturday, June 27th. Last night they announced the tour through a spectacular marquee in Times Square and revealed dates and that pre-sale tickets go live today, and subsequently that regular ticket sales begin Friday, February 28.
"Our 20th Anniversary celebration marks a very special moment in our career and we are very excited to prepare an amazing show for our fans throughout the US," in that way Zion & Lennox revealed why this tour is so symbolic to them and why they are looking forward to celebrating this milestone with their fans. The tour is being presented by Zamora Live in partnership with SBS and LaMusica, working together to make this tour a phenomenon like no other.
2020 is already an iconic year for the talented duo from Carolina, Puerto Rico. They were named finalists for the Billboard Latin Music Awards in the "Latin Rhythm 'Artist of the Year, Duo or Group'" category. Not only that, but their recent single "Sistema" produced by Dimeloflow, Slow Mike and Jhon El Divertido, has quickly climbed the charts, showcasing Zion's melodic voice paired with Lennox's one-of-a-kind tonality. "Sistema" is the first single off of the duo's latest album, which will be released in 2020. In conjunction with their concert and new album, Zion & Lennox are looking forward to sharing with fans the several surprises they have in store throughout this year.
###
ICONIC TOUR TWENTY 20
May 15 Inglewood, CA Forum
May 16 San Jose, CA SAP Center
May 23 New York, NY United Palace
May 24 Mashantucket, CT Foxwoods
June 6 Hidalgo, TX Payne Arena
June 7 San Antonio, TX Freeman Coliseum
June 12 Chicago, IL Rosemont Theatre
June 14 Fairfax, VA EagleBank Arena
June 26 Tampa, FL Amalie Arena
June 27 Miami, FL AmericanAirlines Arena
About the Forum
The award-winning "Fabulous" Forum, located in Inglewood, CA, is the largest indoor performance venue in the country designed with a focus on music and entertainment, in addition to select sporting events. The interior of the bowl features flexible seating that ranges from 17,500 seats to 7,000 seats, enabling the venue to attract a wide variety of premier events. Fans at the Forum enjoy approximately 8,000 square feet of event level hospitality offerings, including merchandise, along with food and beverage options from some of SoCal's most celebrated brands. A tinted glass wall separates this concession area from the arena, ensuring fans do not miss a moment of the performance. A 40,000 square foot outdoor terrace surrounds the perimeter of the building and offers food and beverage options, as well as comfortable furnishings, to further elevate guests' enjoyment. The Forum delivers a one-of-a-kind experience for all thanks to its superior acoustics, intimate ambiance and state-of-the-art facilities. Designed with entertainers and performers in mind, the venue includes nine, star-caliber dressing rooms that provide unparalleled comfort. The Forum is part of The Madison Square Garden Company's portfolio of iconic venues, which also includes: New York's Madison Square Garden, the Hulu Theater at MSG, Radio City Music Hall, the Chicago Theatre, and the Beacon Theatre. For more information, please visit www.fabulousforum.com.
The Forum Media Contact
Maxie Solters
Scoop Marketing
ZION & LENNOX ANUNCIAN SU
PRIMER GIRA ESTADOUNIDENSE
"ICONIC TOUR TWENTY 20"
CONMEMORANDO SU LEGENDARIA TRAYECTORIA DE 20 AÑOS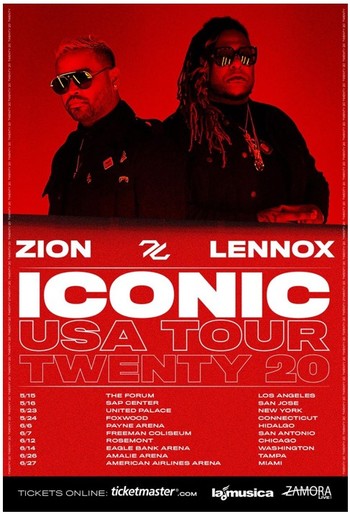 MIAMI, FL (27 de febrero de 2020) – El reconocido dúo del género urbano, Zion & Lennox anuncia una gira histórica: "ICONIC Tour Twenty 20". Este tour, cual rendirá homenaje a una exitosa carrera de 20 años, comenzará en Inglewood – Forum – el viernes 15 de mayo y cerrará en Miami, en el AmericanAirlines Arena el sábado 27 de junio. Anoche el dúo anunció la gira a través de una marquesina espectacular en Times Square, así mismo presentaron las fechas y la preventa de tickets que comienza hoy; y posteriormente la venta regular el viernes 28 de febrero.
"Nuestra celebración del 20 aniversario marca un momento muy especial en nuestra carrera y estamos muy emocionados de preparar un show sin precedentes para nuestros fans en los Estados Unidos"; de ese modo han señalado el porqué este tour es tan simbólico y representativo para ellos. La gira es presentada por Zamora Live en sociedad con SBS y LaMusica, trabajando juntos para hacer de esta gira un fenómeno sin igual.
2020 ya es un año icónico para el talentoso dúo de Carolina, Puerto Rico. Fueron nombrados finalistas en los Billboard Latin Music Awards en la categoría "Ritmo Latino' Artista del año, dúo o grupo". Además, su sencillo "Sistema", producido por Dimeloflow, Slow Mike y Jhon El Divertido, ha escalado velozmente en las listas de popularidad; destacando la voz melódica de Zion armonizando con el tono único de Lennox. "Sistema" es el primer sencillo de su álbum más reciente que será lanzado este 2020. En sintonía con su concierto y el nuevo material, Zion & Lennox esperan con gran emoción compartir grandes sorpresas con sus fans a lo largo de este año.
###
ICONIC TOUR TWENTY 20
Mayo 15 Inglewood, CA Forum
Mayo 16 San Jose, CA SAP Center
Mayo 23 New York, NY United Palace
Mayo 24 Mashantucket, CT Foxwoods
Junio 6 Hidalgo, TX Payne Arena
Junio 7 San Antonio, TX Freeman Coliseum
Junio 12 Chicago, IL Rosemont Theatre
Junio 14 Fairfax, VA EagleBank Arena
Junio 26 Tampa, FL Amalie Arena
Junio 27 Miami, FL AmericanAirlines Arena
The Forum Media Contact
Maxie Solters
Scoop Marketing